Great excitement! I have just signed a contract with my publisher, Allen & Unwin, to do a new book. The working title (may not end up being the real title) is Unlocking the Memory Code. Publication date is probably early 2019. There is a lot of work to do first! Edit: it became Memory Craft.
This book is all about using the most effective memory methods from across cultures and throughout time. It is all about how we can use these methods to enhance our lives every day.
One of my great pleasures is encoding layer upon layer in my new lukasa, designed to record the history or writing. Ironic, isn't it? This beautiful object was made for me by Tom Chippindall.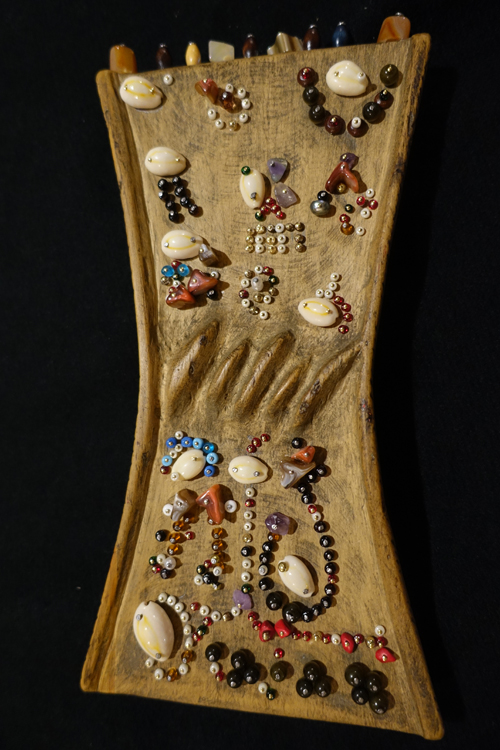 The vast majority of the emails and messages I receive are about the indigenous memory methods and how we might apply them in contemporary life. The extraordinary memory skills of our ancestors have been gradually lost with the invent of writing and even more so with the prevalence of information technology. Many readers are concerned about this and want to redress the trend by using their memories much more effectively.
I am simply astounded every day by what I can memorise and the way I can then build on the knowledge which is so firmly grounded in the memory devices. I am able to see patterns and the big picture in ways which are just not possible without this basic knowledge at my fingertips. It is also wonderful fun!
Throughout the book I will look at the changes in memory techniques over the millennia and discuss the possible impact on education and on memory loss with ageing. Recent research in neuroscience explains exactly why the memory methods of indigenous culture are so effective. I will report on the science and celebrate indigenous intellect. I will also emphasis how much everything is to remember when it is brought to like through stories and vivid characters.
As indigenous and early literate cultures were masters of memory, so it is from them that we can learn the most. I am adding to the lessons from oral cultures discussed in The Memory Code to include medieval memory systems, ideas from the Renaissance and from ancient Chinese and Japanese handscrolls. I will also look at mnemonic tricks from contemporary times.
The topics to be covered in Unlocking will include the most successful examples from My 40 Memory Experiments which have now been adjusted to reflect the questions I am most often asked.
I am learning a foreign language (French) despite having failed dismally to do so at school.  I am using a range of methods to memorise vocabulary and grammar and going really well. And even taking on Chinese (Mandarin).
I have devised a system for memorising names and faces by adapting the concept of a medieval bestiary.
I memorise temporary lists when we are out birding, going shopping or given verbally using a visual alphabet, adapted from those used during the Renaissance.
I am continuing to memorise more details about all the countries in the world and constantly adding to my walks through pre-history and history. I use the field guide to the 412 Victorian birds from memory constantly as husband Damian and I go birding often.
I am attending art classes every week to create the most beautiful contemporary adaptions I can manage of the bestiary, visual alphabet and Chinese hand scrolls. I am becoming addicted to everything about art, especially watercolour. I am using a version of the Inca knotted string khipu (quipu) to record the history of art. As many researchers suggest, the khipu is really nearer to writing than a pure mnemonic device.
I am also creating a personal 'winter count' based on the stunning mnemonic skins of the Plains Indians of North America. The one pictured below if the famous Lone Dog's winter count. I am astonished how little of my life I could remember chronologically until I started this project. How much will this object help me hold onto my identity into very old age?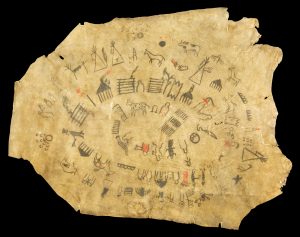 And every day I train for the Australian Memory Championships. Being old (I'm 65) does not mean a fading memory. I can now memorise a shuffled deck of cards in 12 minutes – way down from the 35 minutes just a month ago. I can memorise long strings of random numbers in decimal and binary and many other useless but surprisingly enjoyable feats.
Life is very good and I have all the readers of The Memory Code to thank!
SaveSave
SaveSave
SaveSave
SaveSave
SaveSave
SaveSave
SaveSave
SaveSave
SaveSave
SaveSave
SaveSave