"I held out the deck of cards, a bicycle deck. I had said nothing. I had done nothing beyond holding out a deck of cards in dealers' grip. The teenager turned to his friends and said 'I know this one'. The girls wandered off.
A week later, the teenagers were around a table. I slowly unwrapped the leather pouch and took from it a very old deck of cards. I told how they had belonged to my great‐grandmother and have magic powers that I don't understand. I held the precious deck out to show them, in dealers' grip. No‐one already knew it and none of the girls wandered off.
This essay is not just about being a female magician, but about being a feminine one. I'm always dressed in long skirts, lots of jewellery and all the trappings of somebody who loves being female. This essay is about the reasons I feel there are not many feminine magicians."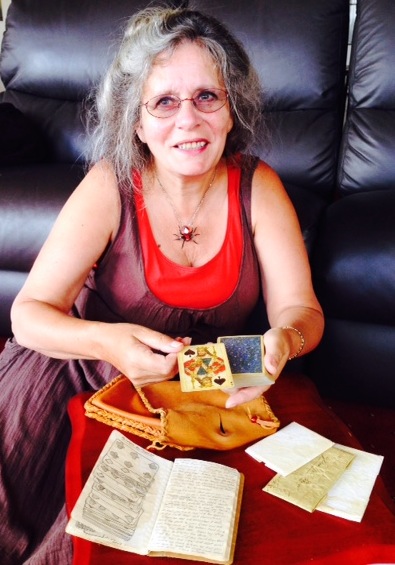 That is the opening to an article which was reprinted in The Journal of Performance Magic published by the University of Huddersfield Press. The entire article can be found here:
http://eprints.hud.ac.uk/view/journal_jpm/2014/2/1.html
It was originally commissioned for The Magiculum edited by Todd Landman.
My father had been an amateur magician, so I had always loved it as I did anything even vaguely related to him. But it was through research for my book, The Skeptic's Guide to the Paranormal, that I became intrigued about why and how people were convinced by false perceptions. Meeting magicians in Australia and the UK, especially Ian Rowland and Lewis Jones, sent me off on a new obsession.
My leather pouch has the old deck of cards, the handwritten book left by my great-grandmother and packages of other strange cards. It's all an illusion. I love it!
Obsessions are great when you are a non-fiction writer. Material is simply everywhere.