So much of my work is about the incredible potential of hand held memory devices. These carved maps of the Tunumiit culture of Greenland combine the two methods I use most: the landscape and handheld devices. How logical is it to make a portable pattern for the sung landscape to use as a memory device for vast amounts of practical knowledge?
Why didn't I think of that? I am now going to carve a piece of wood to match one of my landscape walks. Click on the images to get the whole story.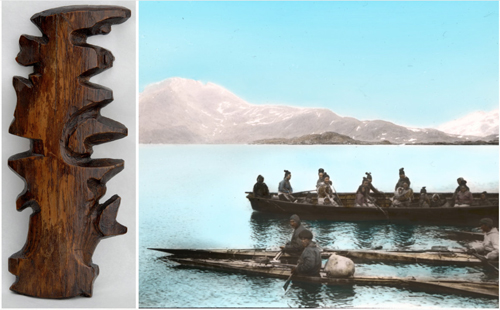 Holm wrote: "A native from Sermelik, called Angmagainak, who had never had a pencil in his hand and had only once visited the East coast, drew a fine chart for me covering the whole distance from Tingmiarniut to Sermiligak, about 280 miles." They also provided him with incredibly detailed descriptions of terrain, flora and fauna, and, in some cases, local weather patterns and lunar and solar cycles.
There are examples from all over the world of the ignorance of the Eurocentricity doubting the intellect of indigenous cultures – of anything different from their way of doing things:
Some contemporaries of Holm doubted that Inuit people were capable of producing these types of maps, and that they were just the result of mimicry—classic Eurocentrism. In 1886, one Mr. Hansen-Blangsted argued in the French Minutes of the Meetings of the Geographical Society and the Central Commission that it was highly improbable that an "Eskimo" could possess the mental faculties to "invent" a three-dimensional wooden map. It was much more logical, he posited, that some shipwrecked European sailor taught the practice to the Tunumiit hunter—conveniently ignoring, of course, that no Western seafaring tradition had ever produced maps like this. Holm disputed Hansen-Blangsted's racist claims and jumped in to defend the skill, memory, and intellectual capacity of the East Greenlanders he had gotten to know.
Thank you, Sue McLeod, for pointing me to this article.
SaveSave
SaveSave
SaveSave