I am a recovered arachnophobe. I now adore spiders. Absolutely adore them and am endlessly fascinated by their incredibly varied lives.  I told that story in my book, Spiders: learning to love them, published by Allen & Unwin in 2009.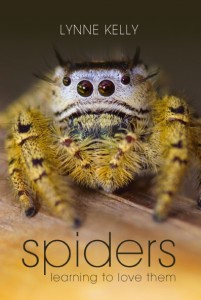 I am still enthralled by spiders, go out and watch them and want to tell the whole world that there is nothing to fear in these incredible critters.
I got to wax lyrical about them on the American podcast, MonsterTalk. They describe it as:
ONE OF THE MOST COMMON FEARS in the world is the fear of spiders. But what does a rationalist do when gripped by an irrational fear? MonsterTalk interviews author Lynne Kelly about her transition from arachnophobia to spider enthusiast. Note: This episode deals with spider sexual reproduction which includes masturbation and cannibalism.
You can listen here. It was great fun!
Spiders is available from Amazon and other book shops.