A wonderful collaboration between the Yanyuwa people and Monash University is online and enables us to glimpse the singing tracks of their culture. The Yanyuwa live 0n the Gulf Carpentaria in Northern Australia.
Animations of the songs can be seen at the Monash Country Lines Archive.
As described in his 2010 book, Singing Saltwater Country John Bradley has mapped over 800 km of singing tracks in a three decade long association with the Yanyuwa people of Carpentaria.  The sung pathways through Country are referred to by the Yanyuwa as kujika and described as a 'Yanyuwa way of knowing' and as the 'key to rich, complex and intricately related knowledge systems'. For one kujika, Bradley recorded over 230 verses, with knowledge stored in layer upon layer, the more complex knowledge gained with initiation into higher levels. Every detail of the landscape is described and stored in the sung narratives. Fixed in place by the very landscape they describe, the kujika act as the link connecting all songs in a sequence.
This is the method of loci in its most expansive form. Every aspect of the knowledge is encoded in these songs. This is one of the few glimpses of primary orality available in the world today, when this method of knowing almost certainly served every human community for tens of thousands of years.
The complexity of Australian Aboriginal knowledge has been hugely underrepresented until recently. We need to ensure it is understood before it is lost forever.
Bradley wrote about the experience of learning an Australian Yanyuwa kujika:
So much knowledge was being presented to me, at many levels and intricately interrelated. I was struggling to find words for much of the material as it was deeply encoded and dependent on other knowledge.
…I was amazed by the detail of this kujika, especially of the different species of sea turtles, their life cycle and habitats; it was a biology lesson in sung form.
The first stage of the Tigershark Dreaming  and then the second represent just a tiny part of the Manankurra kujika. Part One is linked to the image above, with part 2 below. Further songs are available at the Monash Country Lines Archive.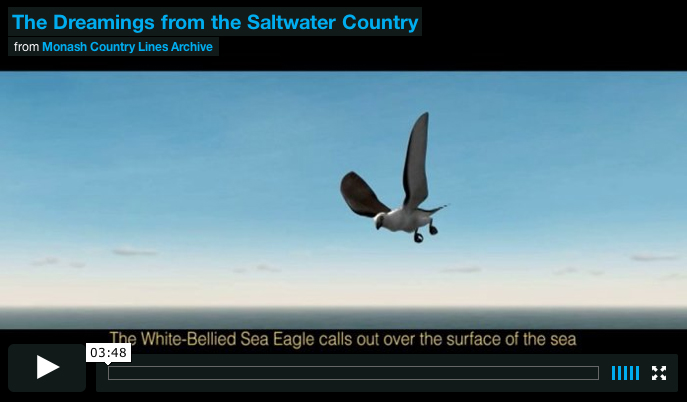 Although there is clearly a spiritual dimension to the kujika, it is so beautifully clear that these songs give an intensie knowledge of the geography for navigation and identification and behavioural details of the animals in each microenvironment. The techniques of treating the cycad seeds to take them from deadly to edible are also mentioned. These are a rational people with great depth of knowledge.
It is the singing tracks and the depth of pragmatic knowledge which is the basis of all I write about in Knowledge and Power in Prehistoric Societies (Cambridge University Press, 2015).