'Primary orality' is all about the way societies communicate and store information when they have no contact whatsoever with writing. If they don't have literacy, they do have orality.
Orality is an information technology, a tool which increases the ability of humans to store and process information. It is simply extraordinary how much can be memorised using orality.
Indigenous cultures stored vast amounts of knowledge about the thousand or so animals and just as many plants in the various habitats they knew intimately. The Navajo, for example, stored a classification of over 700 insects along with habitats, behaviour, identification and metaphor for human behaviour. And that's just insects. Then there's navigation, geology, genealogies …  the list goes on and on.
How on earth did they memorise so much stuff? That's what primary orality is all about.

The oral encyclopaedia was (and in some cases, still is) woven into stories, vivid imaginative sung narratives, with the specific information often associated with characters within the story. Thousands of stories integrated with spiritual beliefs were kept in mythological form, constantly repeated to ensure they were not forgotten.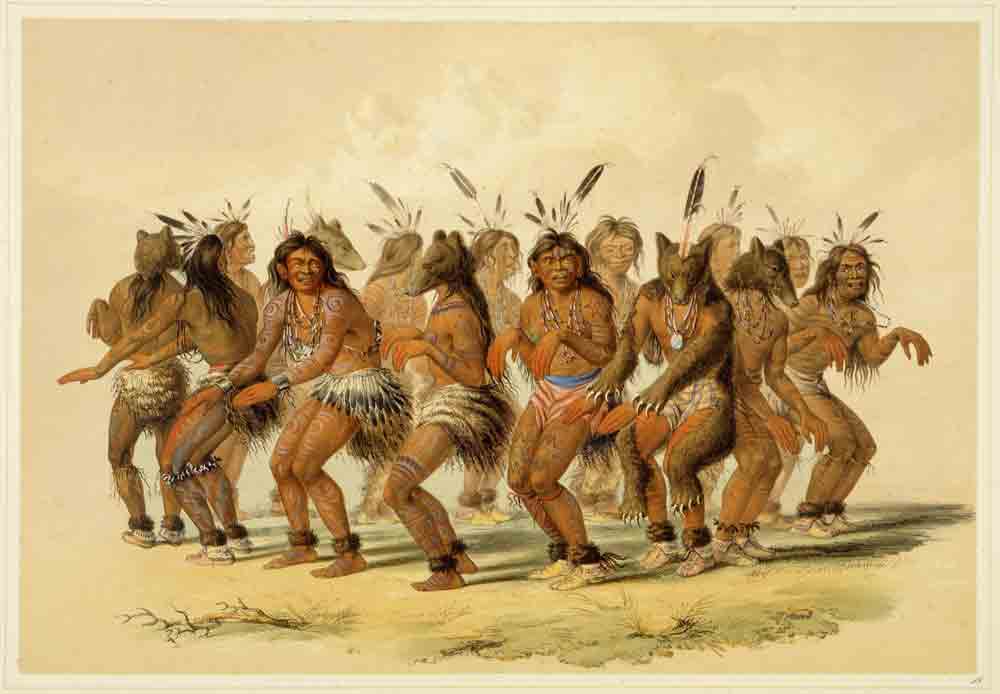 The Bear Dance, painted by George Caitlin, 1844

Most significantly, knowledge is performed; songs, dances and mythological reenactments being far more memorable than facts stored in prose. Hence the research on primary orality always includes mythology as a mnemonic form, while acknowledging the substantial spiritual role.

My research adds material memory aids – mnemonic devices – to the topic of primary orality. It is through these physical devices, along with public and restricted performance spaces, that we can link primary orality to the archaeological record.