I was fascinated by an email I received from Susannah Walker in the UK a few days ago. But first, a little background. For many years, a small photo has sat on my desk. It was taken by my late mother, and has the name of the circle in her handwriting on the back. But I had done no more than acknowledge it as one of the thousand or so stone circles in Britain.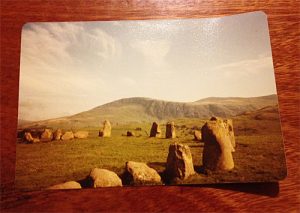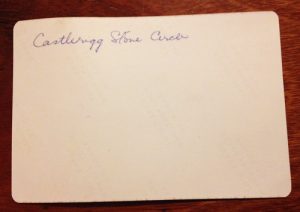 Susannah wrote: I have been fascinated to hear about your book, The Memory Code and am very much looking forward to reading it when I go on holiday in a few weeks time.
Even reading the reviews, however, made me think of Castlerigg Stone Circle in Cumbria. When I visited it last year, I noticed that the shapes of each of the stones mirrored the silhouette of the hills behind it, making the circle a representation of the wider landscape around. It clearly seemed to be deliberate, and your theory seems to be the perfect answer as to why. (As this article shows, I'm not the first person to have spotted this!).
Click on the image above or here to go to the Visit Cumbria site on Castlerigg.
Susannah's observation of the way the stones reflect the surrounding landscape is one of the Ten Indicators I use to assess whether a monument was possibly used primarily as a memory space. The descriptions online also note many of the other Indicators: astronomical alignments, a sequence of memory locations (the stones), and even the public and restricted spaces with the rectangular 'sanctuary' within the circle. Being Neolithic, there is no sign of a wealthy elite, and a great deal of effort has been invested for no obvious utilitarian purpose.
I love Castlerigg. Thank you, Susannah for making me take more notice of the precious photograph which has been on the desk all this time.