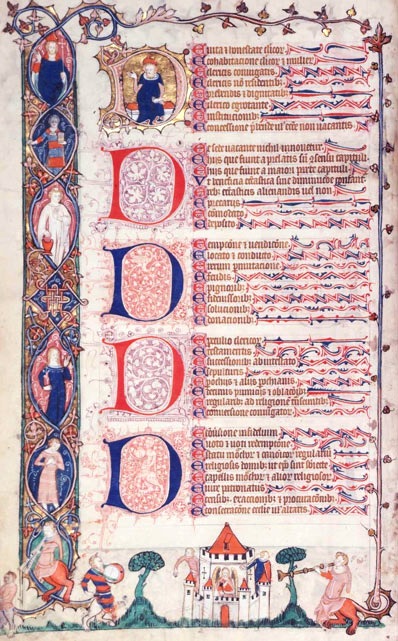 I have always found the illuminated manuscripts of the Middle Ages to be some of the most beautiful artistic creations of all. It was only through the research on memory spaces that I discovered that some scholars consider their design to be intricately interwoven with the need to memorise the content. The manuscript pages were designed as miniature memory spaces.
I spent an inordinate amount of time staring at the glorious reproductions in books on illuminated manuscripts.
In the Middle Ages, the memory arts changed purpose from the oratory of classical times to become the domain of the monks wishing to memorise great slabs of religious tracts. Monks were expected to memorise, at a minimum, all 150 psalms, a task which took somewhere between six months and three years.
The heavily illustrated handwritten manuscripts were seen as a prompt for medieval memory when books were extremely rare and horrendously expensive. The words were enmeshed in images which match the classical recommendations for making information far more memorable: grotesque and violent acts along with fanciful beasts, strange figures, gross ugliness and extraordinary beauty. It was common to have each chapter start with a coloured initial, alternating between red and blue, with repeated letters each having their own design, such as in the Smithfield Decretal shown above.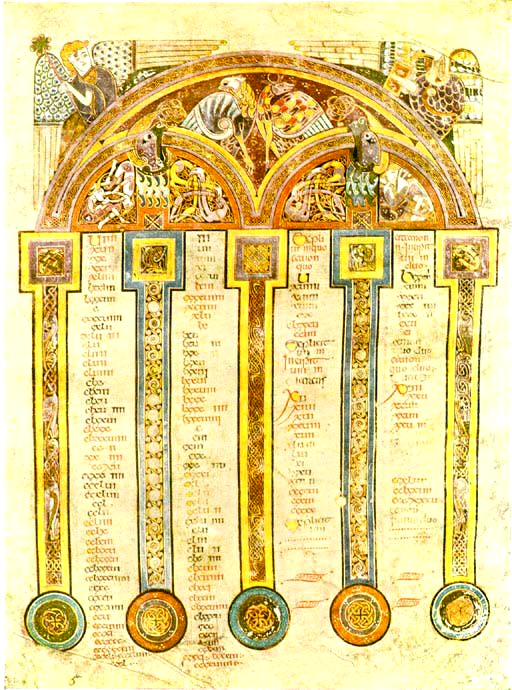 Around 331 A.D., the Roman historian, Eusebius of Caesare, created lists of chapter numbers indicating areas of agreement and of difference between the Gospel accounts in  Matthew, Mark, Luke and John. These chapter numbers were typically presented as elaborately decorated tables, designed to be memorised. The lists of numbers were written between illustrations of columns with arches above, replicating the classical Greek advice to use intercolumnar spaces as locations for memory images. The vertical spaces were then divided into small rectangular spaces each holding no more than five items, the maximum number suggested for retaining in memory for a single location.
A huge range of memory devices were recommended in the many treatises written during the Middle Ages for monks, and later for a whole range of students. Alphabets, the zodiac, bestiaries … so many different sequences were used for miniature memory locations, often illustrated in the elaborate medieval style. Much of the art decorating churches were also aimed to aid memory. More of that in future posts!
References:
Carruthers, Mary, The book of memory: a study of memory in mediaeval culture (2008), second edition, Cambridge University Press, Cambridge.
Carruthers, M & Ziolkowski, JM (eds), The medieval craft of memory: an anthology of texts and pictures (2004), University of Pennsylvania Press, Philadelphia.
de Hamel, Christopher, A history of illuminated manuscripts (1994), Phaidon, Oxford.
Yates, Frances, The art of memory (1966), Routledge and Kegan Paul, London.