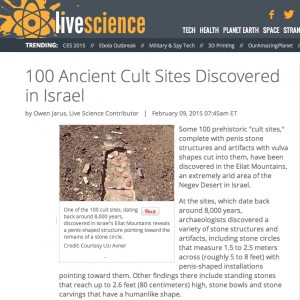 I am not denying that ancient people, like many modern people, believed in lots of superstitions. What I am arguing as loudly as I can is that they wouldn't have survived without a massive store of practical information. All my ethnographic research points to the memorising of pragmatic knowledge was, and in some cases still is, a critical practice of non-literate cultures at their 'ritual sites'.
The report is about really interesting sites in Israel and the quality of the archaeology is obviously superb. I just have one small niggle.
Reports, such as the one linked above, invariably talk about cults and fertility rites and death rituals but never about knowledge systems. My research shows clearly that a large proportion of esoteric rituals serve to repeat the knowledge on which survival depends – vast stores of animal and plant information, navigational knowledge, geology, water sources, laws, weather and seasonal indicators and so on. People aren't only interested in sex and dying.
The descriptions given in this article fit all that I would expect from a knowledge sites, they describe restricted spaces, reference to the landscape, a great deal of effort without obvious reason, decorated objects, evidence of sequence and space for performances. Each small group would require these knowledge spaces, with clusters representing those used for larger gatherings.
In Australian Aboriginal terms, these are referred to as bora grounds and corroboree sites. Evidence from all of the 300 or so language groups in Australia is that the transfer of practical knowledge was key to the purpose of these sites.