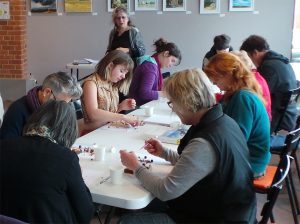 There has been a great enthusiasm from readers of The Memory Code to learn to create memory devices and implement them in their own lives. Twenty people gathered for the first workshop at Castlemaine Library on a Saturday morning. The goal was to learn two different methods inspired by indigenous knowledge experts.
The first technology was to imitate the memory board known as a lukasa from the Luba people of West Africa. Variations of memory boards are found all over the non-literate world. The first stage was to select pieces of wood which had interesting grain which could be used to enhance the visual location of each bead. Then about 120 beads were selected from a large selection, for looks and for touch. Each person chose the beads which most appealed to them. These were then glued onto the boards and left to dry.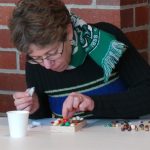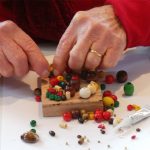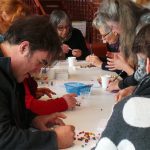 We then spent about half an hour creating a memory palace in the participants' homes. They started encoding the countries of the world in population order to locations within their houses. One has reported back that she got the first 80 in within a week! The information about the countries in each location is infinitely expandable. See Memorising the Periodic Table for the method.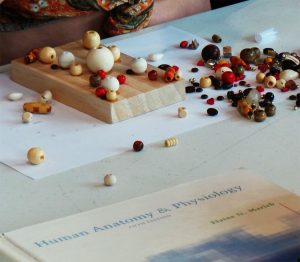 We then returned to the lukasas. Each participant had their own ideas about what information they were going to encode to their memory boards. These varied from birds, plants, Australian Prime Ministers and chemical elements to human anatomy. Each worked out the structure of the data they were using – some from sheets I had already prepared, some from lists or books they had brought. We have no elders to teach these things so have to rely on written records as the starting point. This followed the method I talked about in Memorising Birds.
The feedback has been fantastic. People have really engaged with the methods and discovered, as I have, that having information in memory enables you to see bigger patterns, to have the information readily available and ask new questions. And it's so much fun!
See also:
My 25 Memory Experiments
Starting a Contemporary Songline
Memorising and Understanding History
Memorising Birds
Memorising the Periodic Table