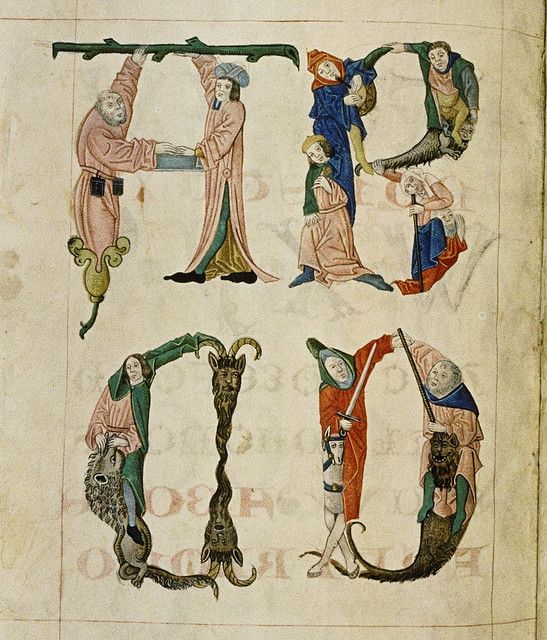 I am struggling to know which of the (currently) 36 memory experiments to work on at any given time. At the moment, I am playing around with designing a visual alphabet along the lines of those used in the Renaissance. I'm not going to attempt anything like the Renaissance masterpiece in the top image!
Below are some versions from  the German Dominican Johann Host von Romberch who wrote about memory methods (among other things) around 1530.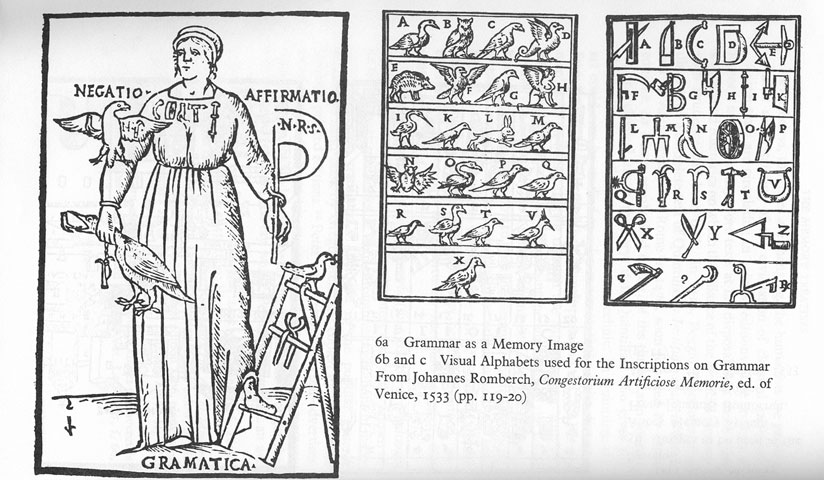 Here's one of my first rough sketch for M: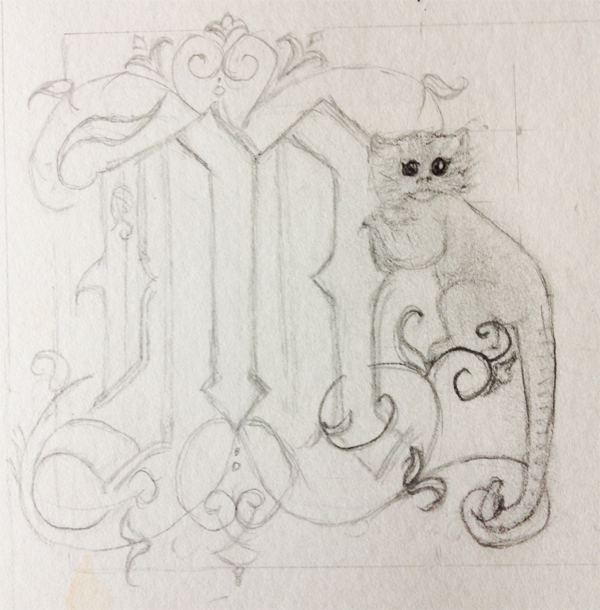 I will be doing mine as a continuous strip in a 'concertina' booklet that folds out. I want the characters / animals in my visual alphabet to interact with the next or previous animal to give an easier link for memory (which the marmoset doesn't at the moment).  I hope it will get to the stage I don't need the letters, just the sequence of images. I want to use this as a memory aid for temporary lists, talks and so on.
I am using any animals or mythological characters I can come up with and playing with the way it will look with the illuminated letters. I am not totally happy with my list of animals / characters. I want more dynamic interaction between the character and the next in line. My artistic skills are limited but I shall just have to work at it!
A: Arachne
B: Bird of Paradise
C: Cat
D: Dragon
E: Emu (not really suitable)
F: Frog
G: Griffin (that'll test my art!)
H: Hydra (lots of curvy snakes – that's staying!)
I: Imp
J: Jester
K: Kingfisher (mmmm? maybe too sedate?)
L: Lion
M: Marmoset (I have that one working, so cute!)
N: Neptune
O: Owl (of course!)
P: Phoenix
Q: Quetzalcoatl (too obscure? Too like Phoenix?)
R: Raven
S: Spider (MUST be a spider, given my addiction)
T: Toucan
U: Unicorn
V: Vulture
W: Wyvern (or is that obscure?)
X: Xanthorrhea (plant, dull – HELP!!!)
Y: Yorkshire terrier (HELP, that was nearly as desperate as X)
Z: Zeus
Some of these have a mythological feel while others don't. Does that matter? ANY suggestions and ideas very welcome.
________________________________________
UPDATE – 12 December 2016:
Thank you for all the comments, messages and emails. I am updating some of the choices above:
E is staying as the emu because it has stuck so hard when I use the list.
G is now a Ghost, a woman in a long white dress (as is mandatory for ghostly women)
K is a Kiwi. I use the visual alphabet for memorising bird lists when we are out birding. So much easier than taking a notebook out constantly. It is very confusing when we see a kingfisher and it isn't in the K-place. My drawings of kangaroos or koalas would simply make you all laugh – they are really hard to draw.
W – the argument below for a wombat is too convincing to ignore. Wombat it is.
X is Xerxes of Persia with his long curly beard. Not well known but far better than a Xanthorrhea plant which no-one has heard of anyway.
Y is now a yak. Of course. How silly of me (as was pointed out by a number of correspondents).
I start art classes this week to work on the visual alphabet, and the other memory experiments which need art, such as the medieval manuscript (I love being ludicrously ambitious) and the bestiary. My new teacher did advertise that he will help with individual projects. I suspect he didn't mean medieval memory experiments.
SaveSave