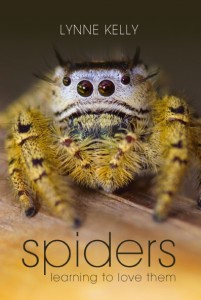 My future books will be all about my research on orality, traditional knowledge systems and archaeology. There is so much to research and write that it will take more lifetimes than I have available.
But that doesn't mean that past books are forgotten. I am finding myself drawn out each night with a torch and camera to check out the spiders. That is a passion which will never die, although Spiders was published a few years ago now.
I once feared these critters. Now the obsession with them is something I still want to write about.
Last night, I knew that the old thrill is still very much alive as I watched a small orb weaver emerge from her hiding place on the birch in the back yard and spin her web. I've named her Little Birch. She's a young knobbed orb weaver, Eriophora pustulosa. She was flighty, rushing back to her resting place on the tree trunk when I tried to photograph. Previous E. pustulosa have been far less concerned by my presence. I have noticed before that individuals of the same species can have very different personalities.
So I didn't get any good photos. Above is one of last year's favourites.
I am still intrigued by why people believe things for which there is no evidence. The topics covered, and cut out of The Skeptic's Guide to the Paranormal have a lot more to offer me as a writer. There's so much in my books and online units on education to write about. And Crocodile? It is the chapter In Life and Legend which led me to oral tradition and the science encoded there, so it is still very much alive.
Although these topics will probably not form the basis of a book again, I want to look at freelance writing so I can still wax lyrical about the things I find fascinating. I'll let you know how I go.