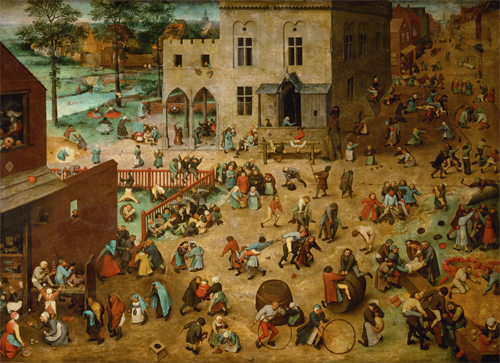 During a discussion on the Art of Memory Forum, it was suggested that existing artworks could be used as miniature memory palaces. Indigenous cultures have used art as mnemonic, as was also the practice in medieval times.

I decided to test the idea using Pieter Bruegel's Children's Games. The Wikipedia entry gives 80 games as shown, so there are 80 obvious locations possible.

I have decided to encode classical composers. I have just started to listen to a lot more classical music than before, but know very little about the topic.
Original post included: Below is a list of 100 composers since the Baroque. So could I please have help reducing the list? Who can I eliminate at the stage without missing out on the major composers? Is there anyone missing?

After much debate and much discussion, I didn't get to reduce it much, but there were a lot of changes. Below is the list I am working from now. Thank you to all those musical types who helped so much!

Baroque Period: 1600–1750
1 Hildegard von Bingen (1098-1179)
2 Claudio Monteverdi (1567-1643)
3 Barbara Strozzi (1619-1677)
4 Jean-Baptiste Lully (1632–1687)
5 Johann Pachelbel (1653-1706)
6 Henry Purcell (1659–1695)
7 Alessandro Scarlatti (1660–1725)
8 Tomaso Albinoni (1671–1750)
9 Antonio Lucio Vivaldi (1678–1741)
10 Georg Philipp Telemann (1681–1767)
11 Jean-Philippe Rameau (1683–1764)
12 George Frideric Handel (1685–1759)
13 Johann Sebastian Bach (1685–1750)
14 Giuseppe Domenico Scarlatti (1685–1757)
Classical Period: 1750–1820
15 Christoph Willibald Ritter von Gluck (1714–1787)
16 Franz Joseph Haydn (1732–1806)
17 Johann Christian Bach (1735–1782)
18 Wolfgang Amadeus Mozart (1756–1791)
19 Franz Xaver Sussmayr (1766–1803)
20 Bedrich Dionys Weber (1766–1842)
21 Ludwig Van Beethoven (1770–1827)
22 Niccolo Paganini (1782–1840)
23 Carl Maria von Weber (1786 – 1826)
24 Gioachino Antonio Rossini (1792–1868)
25 Franz Peter Schubert (1797–1828)
26 Domenico Gaetano Maria Donizetti (1797–1848)
Romantic Period: 1820-1900
27 Louis-Hector Berlioz (1803–1869)
28 Fanny Mendelssohn (1805–1847)
29 Jacob Ludwig Felix Mendelssohn (1809–1847)
30 Frederic Chopin (1810–1849)
31 Robert Alexander Schumann (1810–1856)
32 Franz Liszt (1811–1886)
33 Wilhelm Richard Wagner (1813–1883)
34 Giuseppe Fortunino Frencesco Verdi (1813–1901)
35 Jacques Offenbach (1819–1880)
36 Clara Wieck Schumann (1819–1896)
37 Cesar Franck (1822–1890)
38 Bedřich Smetana (1824-1884)
39 Anton Joseph Bruckner (1824–1896)
40 Johann Strauss II (1825–1899)
41 Johannes Brahms (1833–1897)
42 Eduard Strauss (1835–1916)
43 Charles-Camille Saint-Saens (1835-1921)
44 Georges Bizet (1838–1875)
45 Modest Petrovich Mussorgsky (1839–1881)
46 Peter Ilyich Tchaikovsky (1840–1893)
47 Antonín Dvorak (1841–1904)
48 Edvard Hagerup Grieg (1843–1907)
49 Nikolai Rimsky-Korsakov(1844-1908)
50 Gabriel-Urbain Fauré (1845–1924)
51 Leoš Janáček (1854-1928)
52 Sir Edward William Elgar (1857– 1934)
53 Giacomo Puccini (1858–1924)
54 Gustav Mahler (1860–1911)
55 Achille-Claude Debussy (1862–1918)
56 Richard Strauss (1864–1949)
57 Jean Sibelius (1865–1957)
58 Erik Satie (1866–1925)
59 Ralph Vaughan Williams (1872–1958)
60 Sergei Vasilievitch Rachmaninoff (1873–1943)
61 Arnold Franz Walter Schoenberg (1874–1951)
62 Gustav Theodore Holst (1874–1934)
63 Charles Edward Ives (1874–1954)
64 Joseph Maurice Ravel (1875–1937)
65 Béla Bartók (1881–1945)
66 Artur Schnabel (1882–1951)
67 Percy Grainger (1882 – 20 February 1961)
68 Zóltan Kodály (1882–1967)
69 Igor Stravinsky (1882–1971)
70 Alban Berg (1885–1935)
71 Sergei Sergeyevich Prokofieff (1891–1953)
20th Century: 1900–present
72 George Gershwin (1898–1937)
73 Francis Poulenc (1899–1963)
74 Dmitri Shostakovich (1906–1975)
75 Samuel Barber (1910–1981)
76 Peggy Glanville-Hicks (1912–1990)
77 Benjamin Britten (1913–1976)
78 Dulcie Holland (1913–2000)
79 Peter Sculthorpe (1929–2014)
80 Arvo Part (1935–)
81 Philip Glass (1937- )
82 Carl Vine (1954- )
83 Elena Kats-Chernin (1957-
84 Nigel Westlake (1958- )
85 Margaret Sutherland (1897–1984)
Back burner
1 Carlo Gesualdo da Venosa (1566-1613)
2 Witold Roman Lutosławski (1913 – 1994) (Polish)
3 György Sándor Ligeti (1923 – 2006)
4 John Adams
5 Carl Heinrich Biber (1681-1749)
6 Darius Milhaud
7 Luigi Cherubini
8 Zbigniew Preisner
9 Michael Nyman