I guess this is going to be my hobby horse over the next few years: Why are enigmatic objects always associated with 'beliefs' and nebulous 'rituals'? Why not knowledge?
Past Horizons is an archaeological journal often reporting very interesting finds. In a report about various objects from a mesolithic site in Poland, all of which can be interpreted as part of knowledge systems, the site is described as "a rare glimpse into the world of Mesolithic beliefs".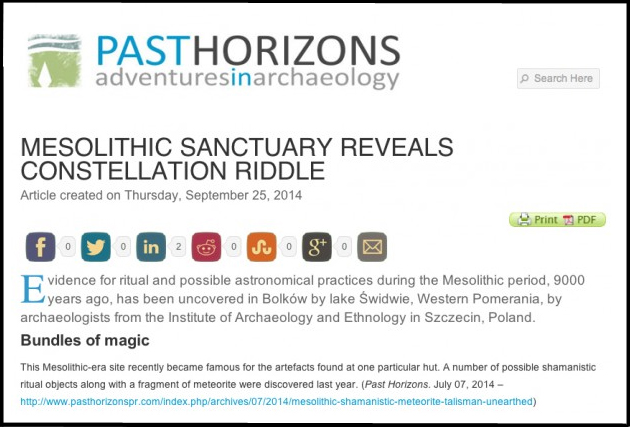 [click on image to go to the full article.]
There is 'magic' and 'shamanistic ritual objects' but no mention of knowledge systems.
There is the implication that prehistoric people lived in a fog of superstition. I don't deny that contemporary non-literate cultures have spiritual beliefs integrated with the knowledge system. It is the emphasis I object to.  My research in primary orality indicates strongly that a great deal of ritual performance and ceremonial song is linked to repeating pragmatic and rational knowledge. This includes astronomical observations used to  retain a calendar closely related to resource availability – be it from hunting, gathering or farming. Star patterns are often used as representations of mythological characters whose stories also encode rational knowledge.
At the end of the Past Horizons article is reference to another research paper on mesolithic astronomy. I assumed that it also referred to rituals and shamans and magic supporting the tone of the previous part of the article. That surprised, given the list of contributors: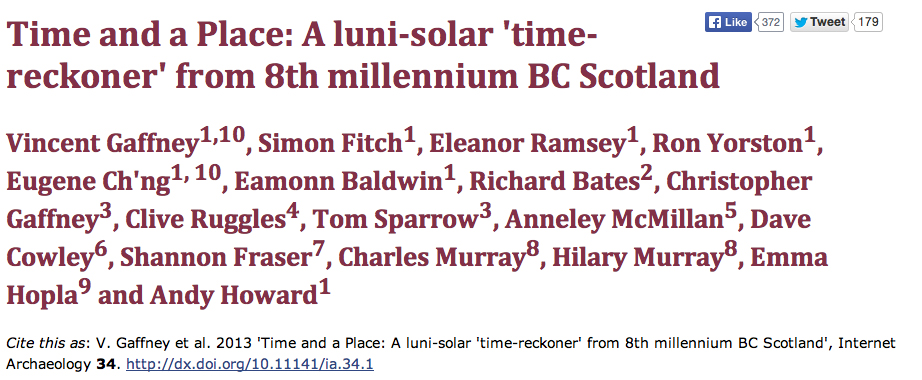 Among other familiar names is that of Clive Ruggles. Always rational and demanding significant evidence for any claim, Ruggles is my major influence in archaeoastronomy. I read the article (linked to the image above) and there is not a mention of superstition. There's just lots of really interesting reporting and discussion.
Am I getting pedantic? I don't think so. But it takes a whole book to present my argument fully. Knowledge and power in prehistoric societies comes out with Cambridge University Press in Fall (US) 2015. Until then, I just grumble.