I received this comment on the My Books page today:
I've seen you over at the mnemotechnics forum. I wonder if there is a place where you've listed your 52 'ancestors' for playing cards? I love the idea of my 52 characters being useful memorable items themselves – and possible pegs for further info.
Graham is talking about two of my memory experiments which I referred to in a discussion over on the mnemotechnics forum. These are the two experiments as I describe them on the page called My 40 Memory Experiments.
They are in chronological order because that adds more information to the memorisation. I'd be intrigued to know which characters people would chose, which they'd leave out and which they would add who I have not mentioned.
Standard card deck – 52 Ancestors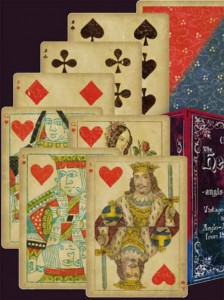 The world memory champions memorise shuffled card decks by giving a character to each one and creating stories. My ancestors are in chronological order. I start with Homer and go to Oliver Cromwell, to be followed by the Tarot Ancestors below. I consider the method to being akin to the stories told by indigenous cultures of the pantheon of mythological characters.
For example, Attila the Hun is the 7 of Hearts. I call him Atilda the Honey. I imagine a tilda (~) as the horizontal bar of the 7, and he is a honey because it's Hearts and all lovely. It is so ludicrous a nickname that it is memorable.
Having given historical characters to each card in my deck, I am using them to memorise  their roles, expanding to the historical events, contemporaries and the context of their lives. They are memory hooks for far more than just their lives. This has gone very well and I am now extremely interested in these people. Having a hook enables me to remember more about them than before. It now overlaps with History Journey and Countries. But it is not confusing, just each mnemonic device aiding the other.
Tarot deck – another 78 Ancestors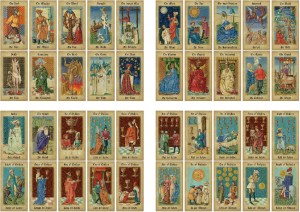 The 78 cards of a tarot deck are heavily illustrated, lending themselves to the creation of stories. I have encoded another 78 historical characters, from Blaise Pascal to Linus Torvalds. I'm now adding more layers of data to the structure.
The fact that image may not bear any relationship to the character is no problem. I just have to get imaginative to make the link.
I have chosen people who I think give me the best chance of covering a great deal of the influences on my culture. I am sure others would have chosen differently. I wonder how much my personal biases show.
| | | | |
| --- | --- | --- | --- |
| Spades | | | |
| | A | Homer | 800 BC |
| | 2 | Pythagorus | 570 BC |
| | 3 | Confucius | 551 BC |
| | 4 | Herodotus | 484 BC |
| | 5 | Socrates | 470BC |
| | 6 | Plato | 428? BC |
| | 7 | Aristotle | 384 BC |
| | 8 | Alexander the Great | 356 BC |
| | 9 | Euclid | ~300 BC |
| | 10 | Archimedes | 287 BC |
| | J | Cicero | 106 BC |
| | Q | Julius Caesar | 100 BC |
| | K | Cleopatra | 69 BC |
| Hearts | | | |
| | A | Augustus | 63 BC |
| | 2 | Jesus | 4 BC |
| | 3 | Pliny the Elder | 23 |
| | 4 | Ptolemy | 90 |
| | 5 | Constantine the Great | 272 |
| | 6 | Augustine of Hippo | 354 |
| | 7 | Attila | 406 |
| | 8 | Mohammed | 570 |
| | 9 | Charlemagne | 742 |
| | 10 | Averroës | 1126 |
| | J | William the Conqueror | 1028 |
| | Q | Genghis Khan | 1162 |
| | K | Thomas Aquinas | 1225 |
| Diamonds | | | |
| | A | Dante Alighieri | 1265 |
| | 2 | William of Ockham | 1287 |
| | 3 | Petrarch | 1304 |
| | 4 | Geoffrey Chaucer | 1343 |
| | 5 | Johannes Gutenberg | 1398 |
| | 6 | Mehmed the Conqueror | 1432 |
| | 7 | Pachacuti Inca Yupanqui or Pachacutec | 1438 |
| | 8 | Christopher Columbus | 1450 |
| | 9 | Leonardo da Vinci | 1458 |
| | 10 | Erasmus | 1466 |
| | J | Niccolo Machiavelli | 1469 |
| | Q | Nicholaus Copernicus | 1473 |
| | K | Michelangelo | 1475 |
| Clubs | | | |
| | A | Sir Thomas More | 1478 |
| | 2 | Martin Luther | 1483 |
| | 3 | Henry VIII | 1491 |
| | 4 | Charles V, Holy Roman Emporer | 1500 |
| | 5 | John Calvin | 1509 |
| | 6 | Miguel de Cervantes | 1547 |
| | 7 | Francis Bacon | 1561 |
| | 8 | William Shakespeare | 1564 |
| | 9 | Galileo Galilei | 1564 |
| | 10 | Johannes Kepler | 1571 |
| | J | Thomas Hobbes | 1588 |
| | Q | Rene Descartes | 1596 |
| | K | Oliver Cromwell | 1599 |
| | | |
| --- | --- | --- |
| Pentacles     1 | | |
| 1 | Blaise Pascal | 1623 |
| 2 | Louis XIV of France | 1638 |
| 3 | Isaac Newton | 1642 |
| 4 | Gottfried Leibnitz | 1646 |
| 5 | Johann Sebastian Bach | 1685 |
| 6 | Voltaire | 1694 |
| 7 | Benjamin Franklin | 1706 |
| 8 | Carl Linnaeus | 1707 |
| 9 | Leonhard Euler | 1707 |
| 10 | Jean-Jacques Rousseau | 1712 |
| knave | Denis Diderot | 1713 |
| jack | Adam Smith | 1723 |
| queen | Immanuel Kant | 1724 |
| king | James Cook | 1728 |
| | | |
| chalices         1 | | |
| 1 | Paul Revere | 1735 |
| 2 | James Watt | 1736 |
| 3 | Edward Jenner | 1749 |
| 4 | Johann Wolfgang von Goethe | 1749 |
| 5 | Louis XVI of France | 1754 |
| 6 | Wolfgang Amadeus Mozart | 1756 |
| 7 | Napoleon | 1769 |
| 8 | Ludvig von Beethoven | 1770 |
| 9 | Jane Austen | 1775 |
| 10 | Johann Carl Friedrich Gauss | 1777 |
| knave | Charles Babbage | 1791 |
| jack | Michael Faraday | 1791 |
| queen | Charles Lyell | 1797 |
| king | John Stuart Mill | 1806 |
| | | |
| wands           1 | | |
| 1 | Abraham Lincoln | 1809 |
| 2 | Charles Darwin | 1809 |
| 3 | Otto von Bismarck | 1815 |
| 4 | Karl Marx | 1818 |
| 5 | Queen Victoria | 1819 |
| 6 | Florence Nightingale | 1820 |
| 7 | Fyodor Mikhailovich Dostoyevski | 1821 |
| 8 | Gregor Mendel | 1822 |
| 9 | Louis Pasteur | 1822 |
| 10 | Leo Tolstoy | 1828 |
| knave | James Clerk Maxwell | 1831 |
| jack | Lewis Carroll | 1832 |
| queen | Pyotr Ilyich Tchaikovsky | 1840 |
| king | Frederich Nietzsche | 1844 |
| | | |
| swords         1 | | |
| 1 | Thomas Edison | 1847 |
| 2 | Alexander Bell | 1847 |
| 3 | Oscar Wilde | 1854 |
| 4 | Sigmund Freud | 1856 |
| 5 | Nikola Tesla | 1856 |
| 6 | JJ Thompson | 1856 |
| 7 | Emmeline Pankhurst | 1858 |
| 8 | Max Planc | 1858 |
| 9 | Sir Arthur Conan Doyle | 1859 |
| 10 | Marie Curie | 1867 |
| knave | Gerturde Bell | 1868 |
| jack | Mahatma Gandhi | 1869 |
| queen | Vladimir Lenin | 1870 |
| king | Ernest Rutherford | 1871 |
| | | |
| Arcana           0 | | |
| 0 | Winston Churchill | 1874 |
| 1 | Joseph Stalin | 1878 |
| 2 | Albert Einstein | 1879 |
| 3 | Leon Trotsky | 1879 |
| 4 | Ataturk | 1881 |
| 5 | Benito Mussolini | 1883 |
| 6 | John M Keynes | 1883 |
| 7 | Neils Bohr | 1885 |
| 8 | Erwin Schrodinger | 1887 |
| 9 | Ramanujan | 1887 |
| 10 | Jawaharlal Nehru | 1889 |
| 11 | Agatha Christie | 1890 |
| 12 | Haile Selassie | 1892 |
| 13 | Mao Zedong | 1893 |
| 14 | Louis Leakey | 1903 |
| 15 | Georges Simenon | 1903 |
| 16 | Alan Turing & Paul Erdos | 1912 |
| 17 | Indira Gandhi & Nelson Mandela | 1917 |
| 18 | Rosalind Franklin | 1920 |
| 19 | Benoît B. Mandelbrot | 1924 |
| 20 | Martin Luther King | 1929 |
| 21 | Linus Torvalds | 1969 |