Archaeoastronomy is one of my great interests.  I was fascinated to read of new ideas about one of the most fascinating sites in the world, Gobekli Tepe in Turkey. But new ideas need checking, as one of the archaeologists I trust most, Jens Nortoff,  points out below. As someone who has put a new idea about archaeological interpretation knows, this will all take time and debate – as it should be.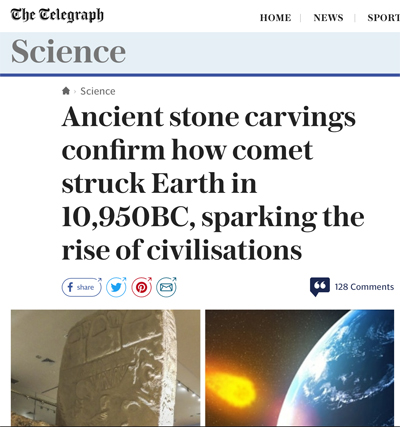 News of a new theory abut Gobekli Tepe in Turkey hit the news this week. It says, in part:
Ancient stone carvings confirm that a comet struck the Earth around 11,000BC, a devastating event which wiped out woolly mammoths and sparked the rise of civilisations.
Experts at the University of Edinburgh analysed mysterious symbols carved onto stone pillars at Gobekli Tepe in southern Turkey, to find out if they could be linked to constellations.
(Click on the image or here for the full story.)
The full academic article can be found here: Martin B. Sweatman and Dimitrios Tsikritsis, Deconding Gobekli Tepe with archaeoastronomy: what does the fox say? 
Odd things about this report concerned me, but I am not in a position to judge without a great deal further investigation. So I went straight to the authority I respect most on Golbekli Tepe, Jens Nortoff at The Tepe Telegrams. These reports are from the archaeologists in the trenches.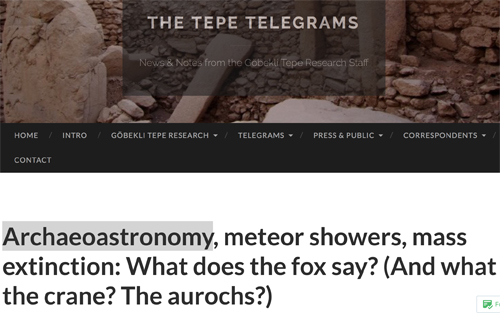 It is important to note some of Jens's comments in his post. He writes:
A selection of the carved reliefs found on many of Göbekli Tepe's T-shaped pillars is linked to and interpreted as depiction of actual stellar constellations. In particular Pillar 43, which is indeed an outstanding (but actually not exceptional) example of the site's  rich and complex iconography, is interpreted as record of a meteor shower and collision – with quite serious consequences for life on earth 13,000 – 12,000 years ago (this whole 'Younger Dryas Impact' hypothesis [external link] actually is disputed itself [external link], so making Göbekli Tepe a 'smoking gun' in this argument should absolutely ask for a closer look).
(Click in the image or here for the full report.)
This is the stunning pillar in question from The Tepe Telegrams post. Anyone familiar with my work will now know why I find Gobekli Tepe so intriguing.

"Pillar 43 in Göbekli Tepe's Enclosure D. (Photo: K. Schmidt, DAI)
Jens concludes: "So, with all due respect for the work and effort the Edinburgh colleagues obviously put into their research and this publication, there still are – at least from our perspective as excavators of this important site – some points worth a more thorough discussion."
The view of the archaeologists on sites
As someone who has published a new theory for the purpose of sites such as Gobekli Tepe, Stonehenge and many others, it may be assumed that I would automatically be attracted to, and supportive of, other radical new ideas. I am. But I am also hugely respectful of the views of the archaeologists who know the details of what has actually been found there.
Consequently, it was hugely important for me to ensure that my theory was consistent with all the archaeology reported from the field. It was then an imperative to present the ideas to relevant archaeologists, as I did in the UK in February and listen to their concerns. I was delighted that there was no objection to the theory. It is now a matter for debate of the details. That will refine the theory. Getting into the academic debate is the first step.
For that reason, I congratulate Dr Martin Sweatman and the Edinburgh researchers for their work and for raising awareness of this incredible site.