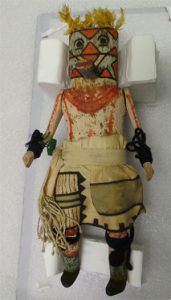 One of the themes I greatly underestimated when I started working with adapting Indigenous memory systems for education was the role of characters. I cannot emphasise enough what a difference they make.
Characters make stories, and the information they encode, ever so much more memorable.
Very early in my PhD research, I became aware of the universal use of a pantheon of characters in all indigenous cultures. The ancient Greeks and Romans also taught about using characters to tell stories when memorising information.
The Native American Pueblo Indians call their mythological characters 'kachina'. I was entranced by these vivid and wildly varied characters and their representations in all art forms. They featured on pottery, in petroglyphs, had specific masks, danced at ceremonies and permeated all aspects of life. Most entrancing of all were the dolls used to introduce the characters to children. I was able to examine a range of these kachina at the Brooklyn Museum in New York.
I soon learned how much more memorable any information became when characters (real or mythological) populated the stories. Referred to in Western writing as mythological characters, ancestors and a range of other names, there really is no equivalent in Western culture. The most appropriate terms are those used by the cultures in question. For the Pueblo, they are kachina (katsina).
It is culturally insensitive to use terms which may imply that we are adapting kachina or any other indigenous pantheon to contemporary life, so the team of educators I work with decided to call our characters rapscallions. This in no way implies that all kachina or characters from other indigenous cultures are rascals. Starting with a rascal-like concept just worked well for children when wanting to give their new friend personality.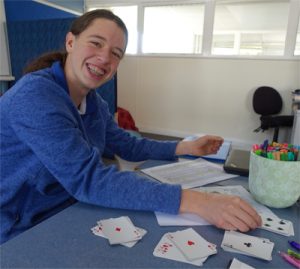 I have chosen my own set of 'ancestors' from history to tell the stories of my culture. I initially linked these to cards because that gave me a physical representation of them. One of the students I have been working with from Castlemaine Secondary College has done the same thing.
Reuben has selected his 53 'ancestors' from across a range of disciplines and linked them to the 53 cards (including the joker) of a deck. He then placed them in a history memory trial of his own design.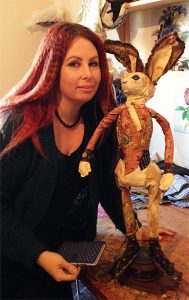 Although I have my set of real ancestors, I have also found that I wanted vivid 'mythological' characters that I could manipulate according to the data I was memorising. I commissioned my lead rapscallion from one of my favourite artists, Suzanne McRae of Hip Hip Decay.
I am absolutely delighted with my new best friend, Rapscali. He performs the very best stories in my imagination and is the hero of my set of images and stories for remembering mathematical tables: Rapscali's Tables, available from the Memory Whisperer Shop.
With fellow educators, Paul Allen and Alice Steel, I have been exploring how best to use rapscallions with adults and students.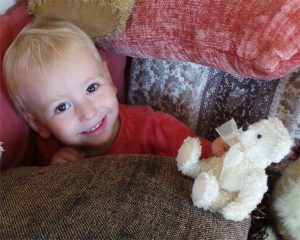 Our youngest is Haku, here using a toy bear as a rapscallion.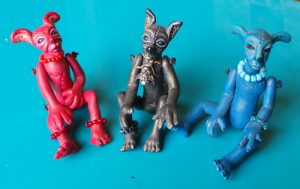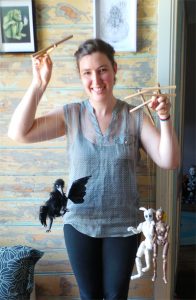 Alice Steel has created rapscallions with her science classes. She has some as puppets ready to perform and others as small creatures created by the students.
I also used rapscallions with classes at Malmsbury Primary School. They have created them in art and we are now using them to help with work right across the curriculum.
I have no doubt that my understanding of the value of using rapscallions will just grow and grow. They are a universal in oral cultures so there must be a very good reason! I am just glimpsing how valuable they are.
SaveSave
SaveSave
SaveSave