At present, there are two products available from the shop.
1. The Bestiary and Visual Alphabet is a method for memorising any list, and anything using words. It is of particular use for memorising names and vocabulary.

2. Rapscali's Tables is a method for memorising multiplication tables for parents and teachers to use with children.

The Bestiary and Visual Alphabet consists of 73 original art works in high resolution.
This book offers two totally new memory devices based on medieval memory techniques. The Visual Alphabet is the starting point, a sequence of animals and human characters. It is used to make information memorable by adding vivid images to whatever you are trying to remember. The sequence is perfect for memorising speeches, lists or anything where the order is important.
The much more extensive Bestiary is used for memorising anything which uses words, especially people's names. The Visual Alphabet gives a starting point for the first letter of a name, but the Bestiary offers the first two letters, so is a much more effective memory prompt. By imagining the beast interacting with the person as you chat, you will create an image which will point you to the name whenever you need it.
Presented with dubious quality poetry to look medieval, The Bestiary and Visual Alphabet is a practical memory tool for every day use.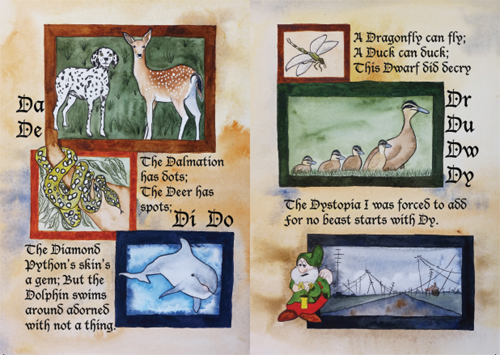 CLICK HERE TO GO TO THE BESTIARY AND VISUAL ALPHABET PAGE
CLICK HERE TO GO TO THE RAPSCALI'S TABLES PAGE
Rapscali's Tables offers a method for students to visualise multiplication tables individually. This makes them hugely memorable – and can be used by young children just playing with the images – or older children wanting to securely memorise the tables they keep forgetting.
The Rapscali's Tables Instructions PDF is free. It can be used to guide teachers and parents to help students create their own set of images to encode the tables in a memorable form. It can also be used to guide you using my set of images for the tables.