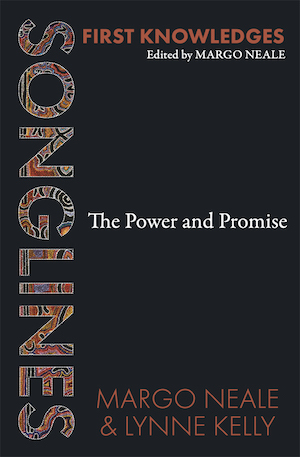 'Let this series begin the discussion.' – Bruce Pascoe
'An act of intellectual reconciliation.' – Lynette Russell
The Thames & Hudson blurb:

Songlines are an archive for powerful knowledges that ensured Australia's many Indigenous cultures flourished for over 60,000 years. Much more than a navigational path in the cartographic sense, these vast and robust stores of information are encoded through song, story, dance, art and ceremony, rather than simply recorded in writing.
Weaving deeply personal storytelling with extensive research on mnemonics, Songlines: The Power and Promise offers unique insights into Indigenous traditional knowledges, how they apply today and how they could help all peoples thrive into the future. This book invites readers to understand a remarkable way for storing knowledge in memory by adapting song, art, and most importantly, Country, into their lives.
About the series: Each book is a collaboration between Indigenous and non-Indigenous writers and editors; the series is edited by Margo Neale, senior Indigenous curator at the National Museum of Australia.
CONTENTS

The Seven Sisters Songline Margo Neale
First Knowledges: An Introduction Margo Neale
1 Personal Perspectives Lynne Kelly & Margo Neale
2 Everything Starts and Finishes with Country Margo Neale
3 Knowledge in Country and the Third Archive. Margo Neale
4 Songlines Today Margo Neale
5 Songlines and Synapses Lynne Kelly
6 Songlines Spiral Forever. Lynne Kelly
7 Songlines Embrace the Globe Lynne Kelly
8 Songlines in Sea and Sky Lynne Kelly
9 Art is Culture Made Visible Lynne Kelly
10 The Promise of Songlines Lynne Kelly
11 The Last Song Margo Neale
My amazing Aboriginal co-author, Margo Neale, is Head of the Centre for Indigenous Knowledges and Senior Indigenous Curator & Advisor to the Director. Margo is responsible for the extraordinarily successful exhibition, Songlines: tracking the seven sisters, which then transferred to Perth and is now on tour around the world for years.

Songlines was shortlisted in the non-fiction section of the Victorian Premiers Literary Awards. The reviews have been terrific. Here are some photos from the launch. First – the invite: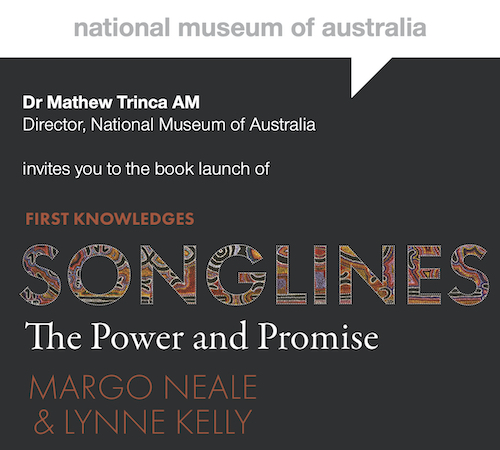 On stage with chair, Alison Page (Indigenous author and filmmaker), co-author Margo Neale and Bill Gammage (author of The Biggest Estate on Earth and co-author of the third book in the series, Country).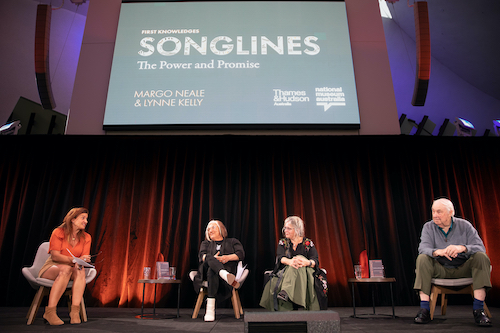 We really enjoyed the audience participation!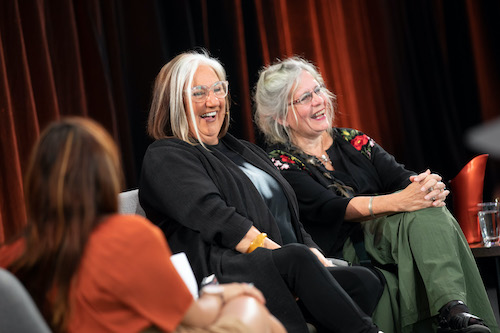 With Alison Page, Bill Gammage and co-author, Margo Neale. Photo: Damian Kelly: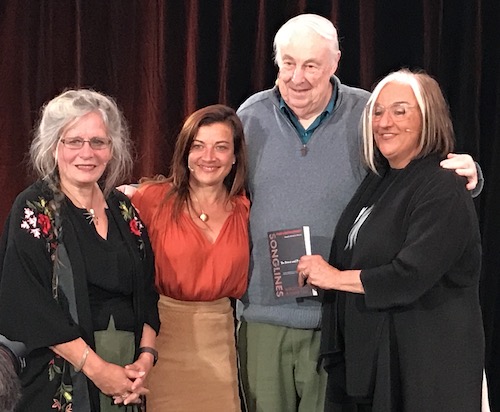 I love seeing piles of books for sale! I didn't have to do the selling.]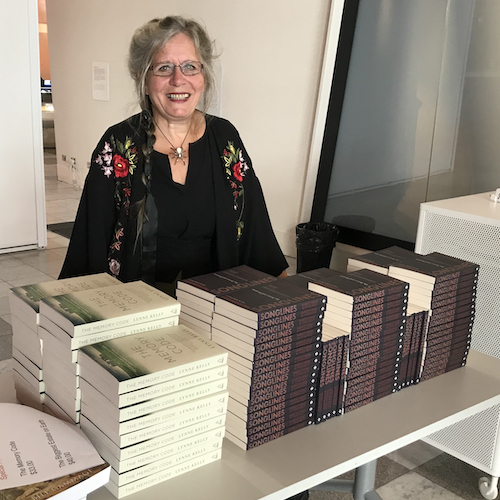 Nothing is more enjoyable than signing books – lots of books!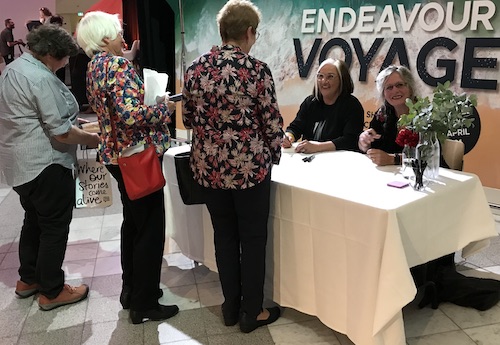 Songlines is launched and all feedback is fantastic – from the publisher and, more important, readers.

Review: Jez Ford, Editor, Australian Science Illustrated
"For me, a second Australian of a mere two decades almost entirely unversed in the Songlines, these First Knowledges books are proving among the most fascinating and important I have ever read, an astounding gift of wisdom delivered with generosity and optimism, offering no less than a new vision of what Australia is, and what it can be. The gateway volume Songlines is a revelation, not only explaining indigenous memory systems but encouraging us all to develop and use our own, while each of the subsequent more focused volumes fascinates and reveals more of the vitality and power of the land and the solutions developed over millennia to manage it sustainably and dynamically. As one of the authors writes: "I feel that until recently I have been walking this earth with my eyes closed." So thank you Margo Neale and the team behind these brilliant books; they deserve to change minds, lives, and hopefully the development of Australia itself."