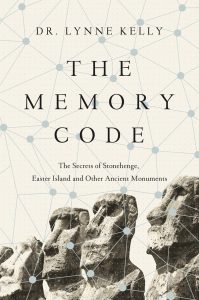 Thank you to those who have been asking about public lectures on my book tour for the publication of the North American edition of The Memory Code by Pegasus Books and the UK / Europe edition from Atlantic Books. There are lots of meetings and other exciting things happening, but below are the public events booked so far.
New York: Note that two events were advertised at the same location, different titles, an hour apart. I am not sure if it is two lectures or one! I'll fix it here when confirmed. IT IS ONE LECTURE AT 3 PM.
Saturday 11 February, New York Public Library: Stonehenge and Other Strange Places, 3:00 pm,
https://www.nypl.org/events/programs/2017/02/11/stonehenge-and-other-strange-places also advertised as:

Saturday 11 February, New York City Skeptics: A Skeptic Tackles Stonehenge: The Memory Code, 3.00 – 5.00 pm, Jefferson Market Library.
https://www.facebook.com/events/211380229314876/
Washington DC:

Wednesday 15 February, National Capital Area Skeptics: A skeptic tackles Stonehenge: The Memory Code,  7:30pm. Rockville Library.
http://www.ncas.org/2017/01/february-15-rational-approach-to-oral.html
Thursday 16 February, American Institute of Architects: The Memory Code and the foundation of architecture. A limited number of public seats will be available. http://www.aianova.org/event.php?eventID=1436
Nottingham:
Wednesday 22 February, University of Nottingham: Indigenous memory and Stonehenge – yes, there is a link, Workshop and public lecture.
Workshop: https://www.eventbrite.co.uk/e/lynne-kelly-memory-workshop-tickets-31219799260
Lecture: https://www.eventbrite.co.uk/e/lynne-kelly-lecture-indigenous-memory-stonehenge-yes-there-is-a-link-tickets-31219661849
Thursday 23 February, Cardiff University: The Memory Code, Archaeology seminar. This is an in-house seminar for the archaeology department, but there may be an opportunity for other archaeologists to attend. Please contact me for more information.
Monday 27 February, Fortean Society, London. Monumental memories: Indigenous memory and Stonehenge. The Bell, 50 Middlesex Street, London E1 7EX.
Train and Tube: Liverpool Street. Tube: Aldgate, Aldgate East. 7.45. Bookings: http://forteanlondon.blogspot.com.au/2016/11/monumental-memories-indigenous-memory.html
Thursday 2 March, Gravesend Skeptics in the Pub, Monumental Memories: No. 84 Tea Room and Eatery, 84 Parrock Road, Gravesend, Kent, DA12 1QF
http://gravesend.skepticsinthepub.org/Event.aspx/10216/Monumental-Memories-a-Skeptics-Extra
I know some people are coming from further afield for the London events. I will have dinner beforehand in a nearby restaurant to meet up with them. Please let me know if you wish to be included.