Thank you to all the people who have pointed me to this news story on LiveScience and asked my opinion about whether they are memory spaces in the way I believe the British circles to be. [click on the image for the full story]
Assessing stone circles and other ancient monuments as memory spaces must be made with care. It would be easy to jump to the conclusion that all ancient structures which aren't clearly domestic or defensive served the needs of a knowledge elite. But the Jordanian circles are not like those built in the British Neolithic which I have analysed so thoroughly and am writing about in my books. The Jordanian circles are continuous walls, a few feet high, not a series discrete stones. They had no openings, but people could have just stepped over the wall.
There are eleven ancient "Big Circles" around 400 meters in diameter and many smaller ones across the Middle East.  Analysis suggests the circles date to over 2,000 years ago, possibly much longer. Without any reasonably accurate dating, the link to other aspects of the archaeology is speculative, so analysis becomes difficult.
Professor David Kennedy, from the University of Western Australia, is quoted as saying that the 'purpose of the Big Circles is a mystery. It seems unlikely that they were originally used as corrals, as the walls were no more than a few feet high, the circles contain no structures that would have helped maintain an animal herd and there's no need for animal corrals to have such a precise shape.'
However, the Big Circle pictured 'was positioned in such a way that it could give someone standing inside it a "panoramic" view of a basin that would have held crops and settlements' which 'may have played an important part in the location of the enclosure'. This degree of reference to the landscape is a useful indicator that it may be a knowledge site.
Another valuable piece of information is that 'the creations were part of a landscape rich in stone structures' [which] … 'come in a variety of shapes, including "Wheels" (circular structures with spokes radiating out); Kites (stone structures that forced animals to run into a kill zone); Pendants (lines of stone cairns that run from burials); and walls (mysterious structures that meander across the landscape for more than a mile — or up to several thousand meters — and have no apparent practical use)'.
I will ignore the Kites, because they have an apparent utilitarian purpose. Without dating showing the Pendants are contemporary with the circles, nor the nature of the burials, I can't use them at this stage. The walls, being labour intensive structures with 'no apparent practical use' are right up the alley my theory likes to trot.
The article also links to other fascinating articles. It refers to the Nasca lines, which will be covered in my next book, Ancient Memory Spaces. These I already know have the whole suite of features I look for in a memory site. The Jordanian stone circles article above also links to another LiveScience article on 'medicine wheels' in Jordan: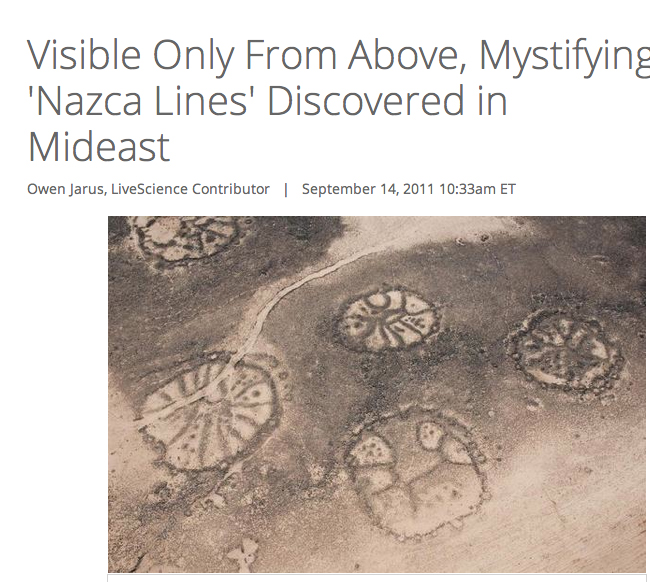 Tantalising? Oh yes!
So to those wonderful folk who are so interested in my ideas – I only wish I could answer your questions about whether the Jordanian stone circles might fit the pattern for knowledge centres. After a quick check, I fear there is far too little for me available in the literature on these sites to assess. I need to know whether there are signs of public and restricted sites, whether there were individual burials dating from the time the circles were built, what the artefacts found were and whether any match the criteria for portable memory devices. And quote a bit more. But they are certainly on my list to follow up in much more detail!
Thank you for the pointer.