The Navajo memorise over 700 insects to three levels of classification, along with all their characteristics. And that's just insects!
I am also trying to mimic the genres of knowledge valued by indigenous cultures, but translate them into my contemporary world. It is essential I store information which I value. It is the value placed on the knowledge stored which justified the huge expenditure of effort required to create and use the memory palaces of oral cultures around the world, including the prehistoric memory locations, such as the stone and timber circles of the British Neolithic and the ancient mound monuments along the Mississippi.
After a few years of work now, the bank of experiments is getting huge and complicated. Before I did this, I really hadn't grasped the complexity and integrated nature of the mnemonic technologies of indigenous cultures. They all used a range of technologies constantly. I am now doing that as well. I can never match knowledge systems based on hundreds, if not thousands, of years of refinement, but I can grasp the totally different ways of thinking and knowing these devices offer me. And I am having such fun with it!
Some people use the term 'memory palaces' for the sets of locations. That works well for large spaces like buildings, gardens and streetscapes. I also use the term 'journey' because that is the term used by eight time world memory champion, Dominic O'Brien, and it best describes exactly what it feels like.
Memory systems give a way to lay down a firm foundation of knowledge on which to build many higher levels of learning.
Fixed memory spaces
This is one of the two lukasas I photographed at the Brooklyn Museum in New York. And this is the basis of the lukasa I am working on for the history of writing.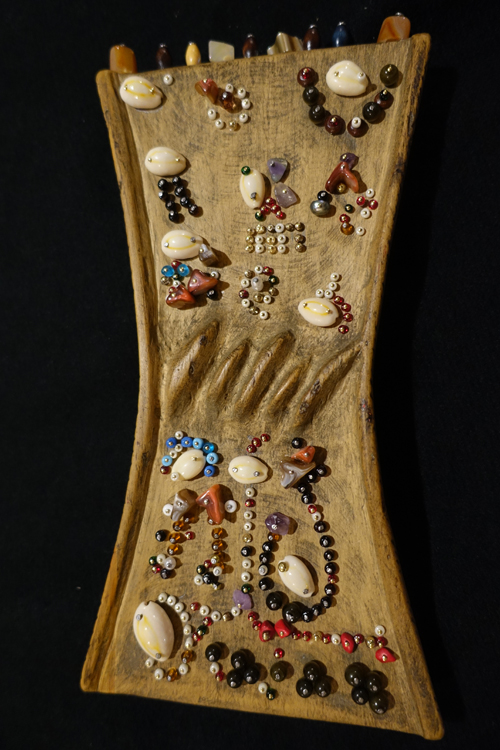 15. Knotted strings – Inca khipu – History of Art
24. Sets of objects – Greek and Roman gods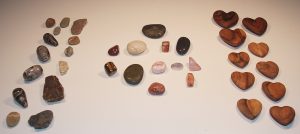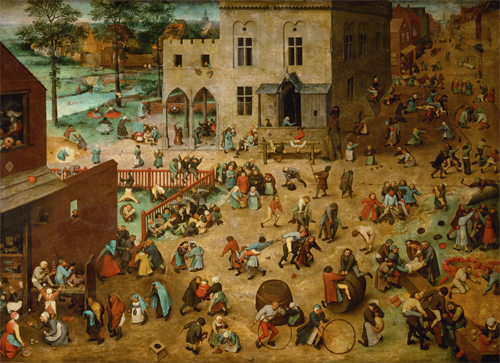 38. Bird calls as mnemonic images
As a result of a different discussion on the Art of Memory Forum (from Experiment 37), I am working out ways o create mnemonic images for bird calls. I want to try and represent the bird calls using calligraphy – the sound written phonetically with wider portions for louder and narrower for softer parts of the call, and the words rising and falling with the pitch. I'd use the watercolour decoration to indicate habitat.
I wonder if that image in memory would help me in the field. There is only one way to find out. If only there were 240 hours in every day.
Conclusion
Each of these experiments can never be completed – there is an infinite amount of knowledge which could be encoded into them. The memory spaces just get richer and richer. Once the database structure – the set of initial locations – is in place, data can be added with ease. I just add to the stories and bizarre images in my head and more information is stored. I have well over a thousand locations in place in the landscape and many more on the portable devices.
Until I had tried these memory methods, I would never have thought that any of this was possible.
SaveSave
SaveSave
SaveSave
SaveSave
SaveSave
SaveSave
SaveSave
SaveSave
SaveSave
SaveSave
SaveSave
SaveSave
SaveSave
SaveSave
SaveSave
SaveSave
SaveSave
SaveSave
SaveSave
SaveSave
SaveSave
SaveSave
SaveSave
SaveSave
SaveSave
SaveSave
SaveSave
SaveSave
SaveSave
SaveSave
SaveSave
SaveSave
SaveSave
SaveSave
SaveSave
SaveSave